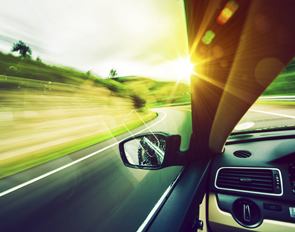 General Information
» Corona films are presented for the choice of its customers with painted, metal painted and totally metal types.
» Corona has a wide product range with its slightly translucent collection and will help you select the appropriate film for your car.
» All Corona automobile films prevent 99% of UV rays.
» Besides, the films' beautiful appearance will always survive thanks to their scratch resistant coating.
Advantages of Sun Film

» Provides excellent appearance for your vehicle,
» Reduces heat and shining,
» Increases life of upholstery,
» Prevents 99% of UV rays,
» Provides a wide product range,
» Provided with manufacturer's guarantee.
» 7 years guarantee.
Light Transmission
Solar Energy Rejected
Visible Light Reflectance
UV Rejection
Interior
Exterior

High Performance Series (2Ply)

5 Charcoal HP
5%
58%
8%
8%
99%
15 Charcoal HP
15%
56%
8%
8%
99%
20 Charcoal HP
22%
54%
10%
8%
99%
30 Charcoal HP
30%
51%
10%
8%
99%
35 Charcoal HP
38%
49%
10%
8%
99%
50 Charcoal HP
52%
35%
10%
8%
99%
18 Bronze HP
18%
60%
10%
8%
99%
40 Bronze HP
40%
45%
10%
8%
99%
50 Blue HP
55%
34%
10%
8%
99%
18 Black Eagle HP
18%
56%
8%
8%
99%
35 Black Eagle HP
35
49%
8%
8%
99%

Titanium INF Series (2Ply)

Titanium 10 (neutral)
11%
65%
13%
13%
99%
Titanium 20 (neutral)
21%
60%
11%
11%
99%
Titanium 35 (neutral)
33%
55%
11%
11%
99%
Titanium 50 (neutral)
53%
40%
10%
10%
99%

Matriz Series (2Ply)

Matrix Grey 10
12%
75%
17%
22%
99%
Matrix Grey 20
21%
69%
18%
17%
99%
Matrix Grey 35
35%
57%
11%
10%
99%
Matrix Grey 12
13%
77%
20%
30%
99%
Matrix Grey 22
20%
70%
23%
24%
99%

Standard Series (1 1/2 Ply)

20 STD (charcoal)
18%
40%
5%
5%
99%
35 STD (charcoal)
38%
38%
5%
5%
99%
40 STD (charcoal)
41%
34%
5%
5%
99%
50 STD (charcoal)
50%
29
5%
5%
99%