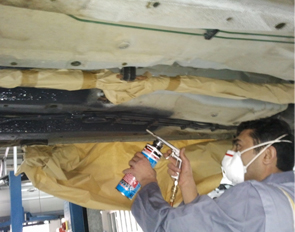 In the economic conjuncture, automotive companies use thinner plates and less sound absorbing materials in order to ensure fuel saving. As a result of this fact, more asphalt and tyre noise enter into the vehicle cabin when moving.
Sound Insulation System reduces such noise up to 70% and protects all metal surfaces under the body against impacts and abrasions of stones, sand and pebbles coming from the road.
All visible metal surfaces under your vehicle, interiors of front and rear tyres are coated with Sound Insulation Material.