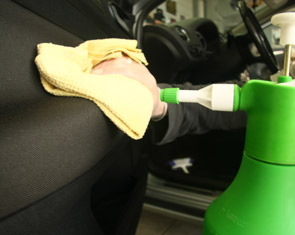 Dirts and spots settled on the seats of your vehicle are cleaned and disinfected using a cleaner produced with nano technology and finally Nano Seat Protection product is applied.
Nano particles bind on the cloth or leather surface and prevent formation of tea, coffee, honey, ketchup etc. spots.
After application, the surface repels and beads liquids; surface's liquid absorbing is prevented and protects seats of your vehicle against dirt for a long time.
It also prevents sun rays cause damage to the seat upholstery.